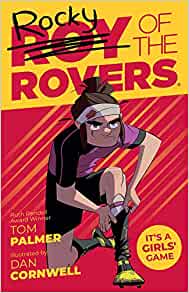 Rocky of the Rovers
Rocky Race is a great footballer just like her older brother Roy. This book focuses on her journey through football and her struggles as a female football player. Rocky's brother Roy is already a professional football player and he plays for Melchester Rovers and has a very important League Cup Final to play at the end of the week.
Rocky is very excited and so is most of Melchester, but Rocky has other things to focus on. Recently she has been having panic attacks, she has them when she wakes up and sometimes she can't leave the house. It has got worse since she went to Ffion's house to deliver a card to congratulate her for becoming the captain of the Wales U-18 team. Ffion is Roy's girlfriend and also the captain of Rocky's football team. While she was there she heard shouting from inside and saw Ffion and her brother Vic arguing with Roy trying to split them up. Vic got angry and punched Roy and pushed Ffion then ran out of the house crying. Rocky was very shocked by this because she looks up to Vic as she sees lots of similarities in the way that they play and act but recently she has been shocked by Vic's violence and is starting to question herself and whether she will turn out like him.
This isn't the end of Rocky's problems though. At school she is fed up of being known through her brother and being discriminated against by her classmates just because of her gender. Also she struggles to connect with her dad who had a brain tumour which changed all of their lives forever. Overall, Rocky has many struggles and she is struggling to keep up with them.
Will Rocky overcome her panic attacks?
Will she forgive Vic?
Will she be able to connect and spend time with her dad?
Read the book to find out!
We think that this book is great for 8+ readers who enjoy football. However, you do not need to enjoy football in order to enjoy this book because this book is about more than just football; it is also about family, relationships and struggles. We also recommend that you read all the other books in this series.
We give this book 5 ***** and we loved it so much.
We have reviewed most of Tom Palmer's books and you can find the reviews here. Just search for Tom Palmer to see a list or search for the book title. 
Thank you Tom Palmer for quoting us in the book and for sending it to us.